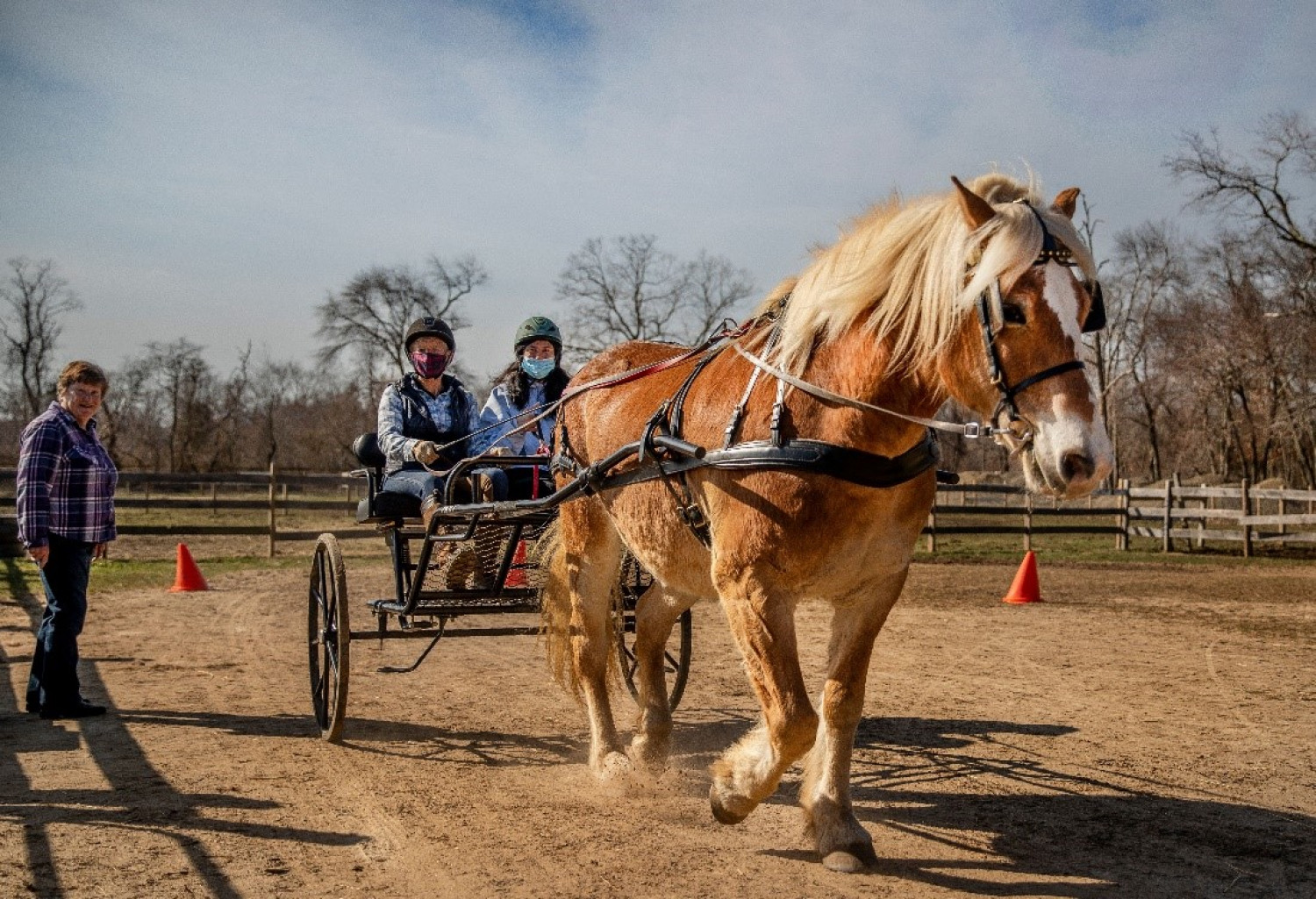 Specialized Riding Lessons
Equine Therapy at Allaire Community Farm
Horseback riding and Carriage driving can be extremely therapeutic for individuals with a wide variety of disabilities and mental health conditions. Therapeutic riding and driving lessons have been shown to help with anxiety, depression, stress, and motor control, among other things. Allaire Community Farm partners with the Special Olympics of New Jersey, and is a certified Special Olympics Equestrian Training Site.

At Allaire Community Farm, we understand that individuals may have a variety and range of experiences with riding and or horses in general. We individualize our lessons to cater to the needs and goals of each rider, ensuring their comfortability and working towards their goals. To aid us with this process, we have our friend Oreo, who is a mechanical horse-riding simulator. Oreo replicates the sensation of riding a horse to help equip the rider with the necessary expectations before riding a live horse. This is an essential tool to have when working with individuals who have varying specialized needs.
Nancy Forstyh, is has excellent organizational, communication and customer service skills that have been honed throughout her career as a horsemanship instructor, volunteer coordinator, fundraiser, and community outreach point person.

Nancy is an artist and former elementary school art teacher, along with being an avid horsewoman for decades with a multitude of experiences both in administration as well as in riding. She holds PATH Intl. CTRI Certifications in both Adaptive Horseback Riding and Adaptive Carriage Driving, and has instructed Adaptive riding in New York as well as New Jersey. Additionally, Nancy has mentored several candidates who have earned PATH certifications, started several new PATH Intl Centers and continues to participate in fundraising and community outreach.

Presently, Nancy has established the Adaptive Riding Program and Carriage Driving Programs at Allaire Community Farm. A recent program addition is the Veteran's Carriage Driving, serving veterans with PTSD. Nancy continues to head the Equine Volunteer Program, and she is currently continuing her position as a Board Member of the Garden State Horse and Carriage Society.

A supporter of the OTTB (Off The Track Thoroughbreds), her horse, Fitti, has joined the lesson program at Allaire Community Farm and has become a great asset to its continued success in touching the lives of those in need.

Outstanding Haflinger, Awesome Joe, has been nominated as a Path Intl Region 2 Therapy Horse of the Year!