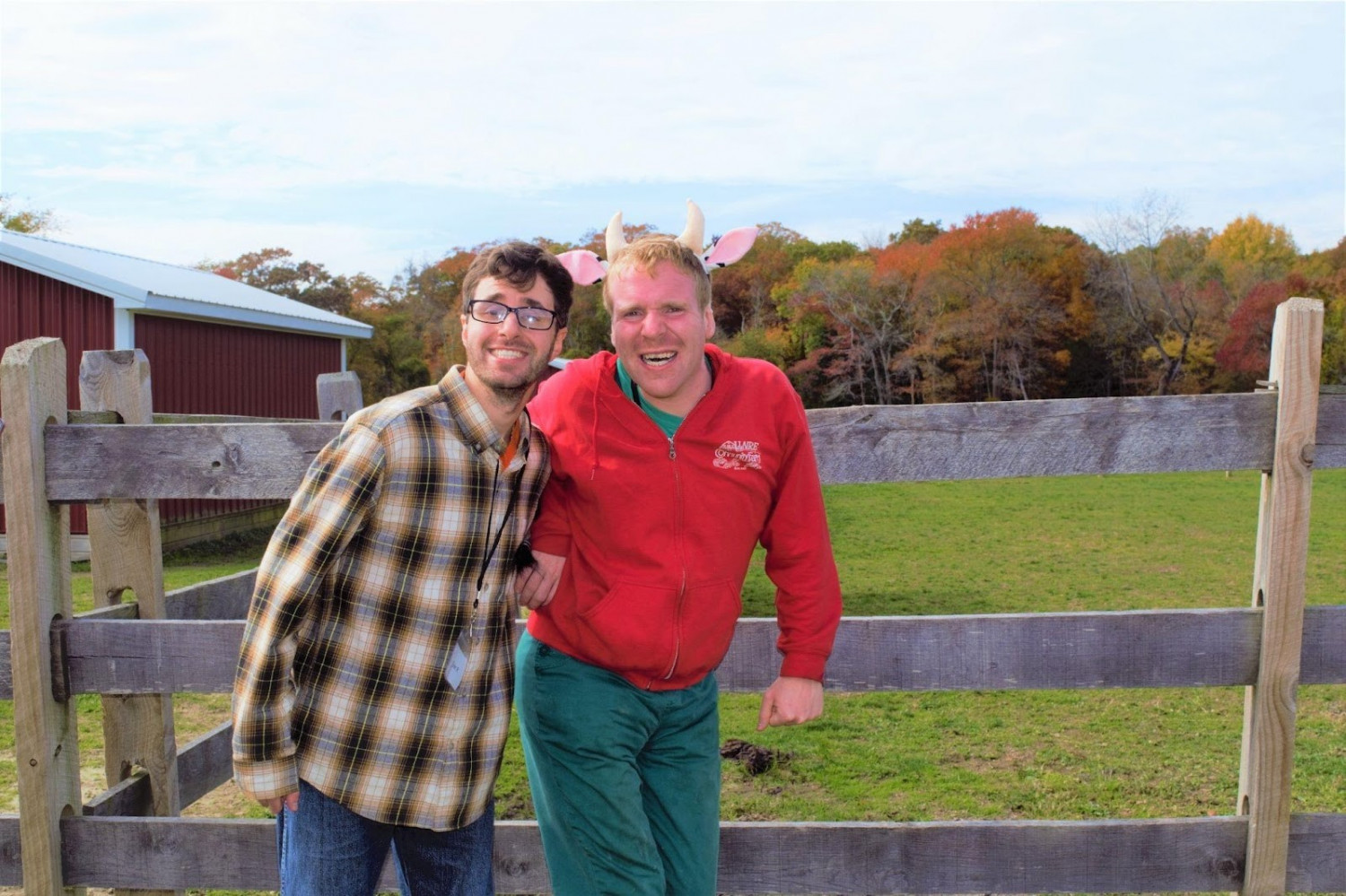 HOPE Program (Harvesting Occupational and Personal Excellence)
At the HOPE Program at Allaire Community Farm, we strive to provide a meaningful, individualized, and goal driven approach to support individuals with intellectual and/or developmental disabilities as interns on our farm.
We are a Pre-Vocational Program.
Our program serves adults 21 and over with I/DD.
We accept DDD and private pay.
The HOPE program runs from 9am - 2pm.
We are open Monday through Friday.
Our program is unique in that:
Our program was developed by a special education teacher and a speech language pathologist.
The participants are an integral part of the farm. They engage in meaningful work that contributes to the running of the farm.
The farm layout is ideal for participants to gain independence navigating around the farm
A speech language consults and oversees our program. Social Communication skills are emphasized and incorporated throughout the day.
Our program is goal based and data driven.
NJ certified Special Education Teachers develop and individualize teaching plans based on participant's goals.
Participants review and reflect on their individual goals daily and participate in goal planning meetings.
Participants partake in daily farm work including:
Animal Care Jobs
Gardening
Working in the Farm Market
Creating and Assembling Products for the Farm
Participants work on many skills including:
Pre- Vocational
Social Communication
Independence
Workplace Professionalism
Self Advocacy and more!
Please contact hopeprogramacf@gmail.com for more information.
HOPE PROGRAM STAFF
JANICE PALMADESSO - Program Director
Janice received her BA and MA in Speech-Language Pathology at Montclair State University. While pursuing her degrees, Janice worked in the Therapeutic Recreation Department at the Monmouth County Park System. As a Head Counselor, she was responsible for the direct supervision of camp counselors and campers with special needs. She developed and implemented behavior management plans and daily camp activities. Janice served as Camp Director, the summer before receiving her master's degree.

Janice began her career in Speech-Language Pathology working for Meridian Health Ocean Medical Center in Brick, NJ, where she diagnosed and treated a variety of speech, language, cognitive, and swallowing disorders in children and adults and earned her Certification of Clinical Competence. Janice worked in a variety of settings including acute care and outpatient therapy at Ocean Medical Center and acute rehab at Shore Rehabilitation Center and provided school-based therapy as a contracted service.

Janice's passion for working with children and teens on life, social, and vocational skills led her to the School for Children in Eatontown, NJ. As a Speech-Language Specialist, she worked with students ranging in age from 3-12, evaluating and providing therapy for students in the areas of receptive and expressive language, oral motor skills, pragmatics, and augmentative communication. This was a formative experience where Janice was privileged to work and collaborate with students, families, teachers, and therapists to help her students meet their potential.

Janice took time off from her career to stay at home with her daughter and son though maintained her Speech-Language Pathology license and Certification of Clinical Competence throughout this time. With time to reflect on her career, Janice decided it was time to leave the therapy room and use her knowledge and skills to help others achieve friendship and purpose in their life. She was hired by Family Resource Associates in Red Bank to work as a Job Coach in their Employability Department. Janice takes pride in being an employee of an agency that shares her values and goals with the people she supports. She has completed a twelve-week ACRE Supported Employment Online Course.

Job coaching brought Janice to Allaire Community Farm. Immediately, she observed the opportunity the farm provides for the exploration of employment fields while making connections and building friendships. After months of planning and collaborating, the HOPE Program was developed. Janice is committed to providing an inclusive and individualized pre-vocational experience to each of the program participants.

Janice resides in Lincroft, NJ with her husband, two children, and two golden retrievers. In her free time, she enjoys skiing, hiking, reading, and the beach.
MAUREEN WALL - Program Supervisor
TERESA MALTZ - Skills Trainer
Teresa Maltz is a teacher and Horticultural Therapist for the HOPE Program. Teresa has worked as an educator for a number of years and a registered Horticultural Therapist through the American Horticultural Therapy Association since 2008. She plans to continue to pursue a Masters Degree in Holistic Health Studies at Georgian Court University. She has a BA in Psychology from Rutgers College and is certified as a Teacher of the Handicapped, Elementary School and Nursery School Teacher. Other certifications include Master Gardener and Permaculture Design. Prior to working at the Allaire Community Farm, she worked as a Teacher of the Handicapped in a three year Arc of Monmouth transitional program for young adults with intellectual and learning disabilities at Brookdale Community College and support staff for the Arc of Monmouth's Achievement Zone. She also has worked for several schools and at a mental health day treatment program where she ran Horticultural Therapy groups and other groups.

Teresa has worked with individuals with varied ages and populations. Her diverse background includes psychology, education, holistic health, and horticulture. Her mission is to inspire people through nature, animals, and horticulture. She currently lives in Tinton Falls with her husband and two children.
MARIE WEIDMAN - Skills Trainer
Marie Weidman is our Learning Specialist for the HOPE Program. Marie holds a BA in Communication Arts from Marist College and a Master's in Social Work from Fordham University. She began her career working for the New York City Administration for Children's Services. Throughout Marie's years at the Administration for Children's Services, she worked as a Protective Service Caseworker, Preventive Service Caseworker, Staten Island Family Court Liason, and a Protective Service Unit Supervisor. Her focus was the protection of at-risk children in Staten Island, as well as, promoting the safety and well-being of the children and their families.

Marie took some time off to raise her three sons with her husband, Todd, in Little Silver, New Jersey. While home with her children, Marie was heavily involved in community volunteering - the Little Silver PTO, Chaired Community Programs of the Junior League of Monmouth County, Director and Coach of Little Silver Travel Basketball, and coached teams in the borough recreational programs.

Marie returned to the workforce in 2014, taking her career in a new direction through work with young adults with intellectual and developmental disabilities. Her work was performed at the Arc of Monmouth through the summer of 2020 - supporting both the KACH and TAZ Programs. Marie was an instructor who developed and taught a curriculum for assisting students to develop marketable employment skills, life skills, and better social awareness.

Marie is also trained in CPR, Seizures, PANE (Prevention of Abuse Neglect and Exploitation), Danielle's Law, and Komninos' Law. She enjoys working in this field and loves coming to work each day at the HOPE Program seeing the difference she makes in the participants' lives and also the difference they make in her life! In Marie's time away from work, she enjoys going to live music events, the beach, and spending time with her family, friends, and her boxer dog, Emma.
NICOLE LIVINGSTON - Skills Trainer
I am so honored to be a part of the HOPE family! I currently live in Wall with my husband, daughter, and 3 rescue dogs. I have my Masters in Art Therapy and Counseling and I am also an NJ-certified Teacher of Art. I have worked in the past in an inpatient psychiatric setting, a private special education school, and a domestic violence shelter for women and children. I also have worked for a non-profit animal rescue group in the area. I am really excited to use my skills and passion for social work to help support the mission statement of Allaire Community Farm and to be a part of the HOPE program.
MELISSA MILLER-ASHMON - Skills Trainer
STEPHANIE POPPER - Skills Trainer
Stephanie, Usually known as Popper, is currently pursuing her Master's of Social Work Clinical Practice with Children and Families, at Monmouth University. She graduated from Monmouth in May 2022, with her BA in Political Science and two minors in Social Work and Anthropology. While pursuing her undergrad degree, she was involved in many different advocative entities on and off campus.

After aging out of the Foster Care system, Stephanie soon found her voice and passion for advocating for all marginalized and vulnerable populations. She had interned and worked with mentoring programs such as BigBrotherBigSister. While also gained experience in educational settings, where she taught aging-out fostered youth life skills for independent living. She has also interned in aiding classes for senior populations at senior recreation centers. She is currently a member of the National Foster Youth Institution, a part of the New Jersey chapter. She currently still sits on the Division of Children and Family's Youth Council, which innovates policy change for all those affected by child welfare systems. Stephanie has a strong passion for helping individuals be the best self they can be. She integrates individuals' progress by equipping them with the tools, resources, and skills necessary for them to apply themselves in the future. Her compassion for helping others has led her to Allaire Community Farm, where she could not be more grateful to work with a team of inspiring individuals.